BMW Car Designers throughout history: In the beginning of the automotive history, car styling – shaping of car's body, used colors and materials, seemed not the most important. Luxury of car's interior and mechanical reliability was essential. It is only at the end of the 1920's, that car producers realized how important the form of a car is, how strong emotions of desire and fulfillment well designed car may bring. Exterior design dominated above the interior. Driver wanted to see his car form outside and driving feel a part of it. Cars began to express their owners. This is how the automotive design came to life.
Dawn of the Automotive Design before 1930: People who influenced the BMW's car design
1. Lucien Rosengart (1881-1976)
French engineer and industrialist born in Paris; already as a boy of 12 he had his own workshop in Belleville; also an inventor (among his 120 patented inventions are table football – although this credit is disputed, bicycle lights and stainless steel bolts); a smart businessman.
Rosengart helped off Citroen and Peugeot before and in 1927 he bought with another engineer Jules Salomon an old car factory in Neuilly, to build his own car based on British Austin 7 called LR2; soon after Rosengart was called upon by BMW to modernize Dixi 3/15 also based on Austin 7; the car has been called BMW 3/15 type DA2 (German: Deutsche Ausführung) 1929; it had bigger windows, changed radiator and more space inside. The BMW slogan was: Bigger inside than on the outside; sedan, coupe, cabrio (convertible) and roadster were produced
Rosengart went later to produce his own development from Austin 7 called LR4 and from 1931, French versions of German Adler cars; his built in 1938 Supertraction was a 2-door sports cabrio with a kidneys like front grille.
Rosengart spent the war in the USA and his factory did not produce cars during the time, after the WWII, he returned to France and tried to launch a new small car – Ariette (1947-1954) and a bigger modern break – Vivor (1950-1955); production at Rosengart factory near Paris ceased in 1955.
Apart from cars he produced also yachts at his shipyards in Villefranche-sur-Mer, Côte d'Azur; Rosengart died in Nice; today, the city of Plerin (at Saint-Brieuc, Brittany) has a street named after him; in 1992 the Museum Rosenqart opened in Bedburg-Rath, North-Rhine-Westphalia, Germany, apart from the cars he built and memorabilia the museum has in its collection the original drawings by Rosenqart
Final assembly hall of the BMW 3/15 in Berlin in 1929;
Lucien Rosengart and Peugeot 181b mass produced car which had also an amphibian version designed by Rosengart; (1928)
Lucien Rosengart in 1932 – a portrait by Eduard Vuillard, oil (fragment), private coll.
Rosengart's initials on a wheel hub on the car he was building
Rosengart LR4 N2 from 1932, with the max. speed of 80 km/h, but the brakes only on its rear wheels
Rosengart Automobiles logo with an L joining T
LR 500 from 1934 built on a license from Adler (model Trumpf Jupiter), now in the Rosengart Museum collection, the story goes that he produced this car because the woman he loved described his version of Austin Seven as a "soap box " -it is difficult not to observe how similar was this car to the Bertoni's Citroёn Traction Avant (also from 1934); Renault Juvaqautre 49 Taxi by Lucien Rosengart (1948)
---
2. Paul Jaray(1898-1974
Never a BMW designer, Paul Jaray wielded vast influence on BMW designs of 1930-ties; born of Hungarian-Jewish descent in Vienna as one of five children of Adolf Jaray, a merchant, in the family which originated in then Hungarian city of Temesvár (Austro-Hungarian Empire, today in Romania: Timişoara), his grandfather Sigmund Jaray (born Sigmund Jeitteles) was a successful interior designer and furniture manufacturer in Vienna, his older brother Sandor a sculptor.
Paul Jaray was educated at Realschule in Vienna and after studies in Maschinenbauschule, he worked shortly for the aircraft builder Flugzeugbau Keller& Wouwermans, Vienna and later at the Prague Technical University, where he was an assistant to Professor Rudolf Dörfl (1855-1938); Jaray's first patents are from this period.
He worked later as the chief design engineer for the aircraft builder Flugzeugbau in Friedrichshafen and from 1915 at Luftschiffbau Zeppelin; Jaray invented a new construction bicycle called J-rad, with front wheel smaller and moved forward, after about 2000 of J-rads were produced (1922-1923), the production had been halted because of serious accidents caused by braking of the longer than in other bikes fork of the bicycle (caused by cheaper but faulty steel used), some of the J-rad bicycles are still in use – mostly in the Netherlands.
After this affair Jaray moved permanently to Switzerland opening an office in Brunnen (1923); in 1927 he founded the firm Stromlinien Karosserie Gesellschaft, which created numerous designs for a streamlined body for already established car producers of all big names; after the WWII he lectured at Eidgenössische Technische Hochschule (Swiss Federal Institute of Technology), Zurich, died in St. Gallen in Switzerland.
Jaray collaborated with Dixi in Eisenach, before the factory has been taken over by BMW: it is there that he build his one person aerodynamic car prototype incorporating his original streamlining ideas patented in 1922; most of Jaray's prototypes were later built by Alfred Ley at Rudolf Ley Maschinenfabrik AG in Arnstadt (Thuringia)
Hanis and Peer – children of Paul Jaray at one of his bicycles J-Rad, 1922
DiXi prototype from 1923 with body by Jaray (built by Gläser in Dresden, picture from the book by Horst Ihling, "Autos aus Eisenach", Motorbuch Verlag, Stuttgart, 1999)
Drawing from the Jaray's 1922 patent
Jaray's car built by Alfred Ley, ca 1925 and its patent drawings
Paul Jaray at the presentation of Maybach SW 35 in 1935 (third from the left, with a sheet of paper in hands)
---
3. Josef Ganz (1898-1967)
German designer of Hungarian-Jewish descent, born in Budapest of German father and Hungarian mother, Ganz has been active in the 1920's and 1930″s and had an important contribution for the ideas of the time; he has been contracted by BMW in July of 1931 as a consultant and participated in the creation of the first version (so called AM1 – Ausführung München) of BMW 3/20 (1932)
Already in the 1920's Ganz had originated an idea of the cheap car in Germany and Maikäfer (in German: May Beetle) he designed for Adler, and another one called Standard Superior designed in 1931 for Standard (owner: Wilhelm Gutbrod) looked like a prototype of and was called in the adverts of 1934 as Volkswagen.
Arrested by Gestapo in May of 1933 under trump up charges of tax fraud and released in June 1934, Ganz emigrated to Switzerland, he lived later in France (after 1949) and Australia.
His ideas from the years 1930's were developed by Tatra cars and also by the Nazis in their People's Car project
Ganz and Jaray in Maikäfer, 1928
---
4. Fritz Fiedler (1899-1972)
One of the most important figures behind the establishment of the BMW brand: Fritz Fiedler was born in Potsdam,studied at Technische Hochschule Charlottenburg (Berlin), after studies worked as a constructor at Deutschen Kraftfahrzeugwerken, Berlin, he became a chief constructor for the car maker Stoewer in then German city of Szczecin (Gebrüder Stoewer, Fabrik für Motorfahrzeuge, Stettin) and later, after a short period as the chief constructor at Horch in Zwickau, Fritz Fiedler went to BMW (1932) to become the head of the BMW car development in the 1930's – at the time when BMW 303 (1933), BMW 315 (1934), BMW 326 (1936) and the legendary BMW 328 (1936) were built.
After the WWII, while Germany has been divided into four occupation zones and BMW was not permitted to produce cars, Fritz Fiedler worked from 1945 in England helping to produce Bristol 400, which was derived from BMW 327 (German engineer was called there Dr. Fiedler).
Upon his return to Germany in 1949, he went to Opel where he was a chief constructor and later, in early 1950's Fiedler returned again to BMW: he was responsible for the engine development, became one of the creators of the Neue Klasse (see below > Hofmeister) and went to be the BMW AG chairman 1955-1956, he retired in 1971
---
5. Rudolf Schleicher (1897-1989)
A constructor and an inventor, Rudolf Schleicher had an important influence on the BMW cars of the 1930's; as a young engineer he came in 1922 to Munich and from 1923 he had been already responsible for the motorcycle development at BMW, he won several races as the factory motorcycle rider; he left in 1927 for Horch and returned in 1932 to BMW
Schleicher constructed 6 cyl. (straight six) engines for BMW and worked closely with Fiedler in the 1930's contributing to the novel construction of the BMW cars of that era, some of the updated versions of the engines designed by Schleicher in the 1930's remained in production until early 1960's; in the late 1930's, Schleicher was the head of the BMW Racing Dept.
During the WWII Schleicher led the massive BMW motorcycle production (car production at BMW stopped in 1942 because of the Germany's war effort) and BMW motorcycles were widely in use by Wehrmacht on all fronts of German campaigns; after the war he established his own firm producing car components (as camshafts): Schleicher Fahrzeugteile GmbH & Co. KG in Munich.
Schleicher on a motorcycle ca 1922
Rudolf Schleicher in his racing times
---
6. Peter Szymanowski (1902- ?)
(Sometimes also spelled as Schimanowski) German designer of Polish descent, a mechanical engineer by training, Szymanowski came to BMW from Horch; he was the head of the car body design at BMW in the mid-1930's and early 1940's (thus from 1937 under Wilhelm Meyerhuber -> see below) and after the WWII the head of the design at BMW (>>see below)
Szymanowski is credited for the BMW 328 body design – one of the first cars tested for its aerodynamics in a wind tunnel; BMW cars of the late 1930's were ahead of their time both technically and aesthetically; Szymanowski designed also BMW 319 and 326 and later working under Meyerhuber (> see below) Szymanowski designed the body for the BMW 327
A contemporary drawing of BMW 328, one of the icons of the brand engineered by Fritz Fiedler with the body by Szymanowski
BMW 326 design from 1936 – according to some sources the first car designed by Szymanowski using the wind tunnel
---
7. Wilhelm Meyerhuber (1888 -1978)
Son of the known painter and sculptor August Meyerhuber and grandson of of Karlsruhe city bronze caster and stone sculptor in the third generation, Wilhelm Meyerhuber spent most of his life there (in the Rüppurr area); Wilhelm Meyerhuber was like his father a painter by training
Meyerhuber started his designer's career at Opel – he stayed for some time in the US at the General Motors; he came to BMW in 1937, he became the head of the newly created in 1938 BMW design department; he then proclaimed the first artistic car design program – he called it "Künstlerische Gestaltung" (Artistic Creating).
BMW formed at the time design bureaus in Hamburg and Köthen (Saxony) employing 20 designers; in the years 1939-1940 prototypes were built of the upper segment cars BMW 332 and BMW 337 and shown to the public in 1940, in the years 1940-1942 the first clay model of the car scaled 1:1 has been made for the newly developed BMW 385, these cars were not produced because of the WWII
An artist himself, Meyerhuber understood importance of design in the automotive industry, apart from the cars which were finally not produced, he is credited for the ahead of its time design of the BMW 328 Mille Miglia roadster
After the war, Meyerhuber returned to Karlsruhe and worked as an artist, he died in 1978 and was buried in the family grave at the Hauptfriedhof Cemetery in Karlsruhe.
BMW design department in the 1930's
A scale model of the BMW 337 today in the BMW Museum in Munich
Peter Szymanowski ?, Wilhelm Meyerhuber and a model-builder Karl Schmuck at the BMW 385 project (1940)
Wilhelm Meyerhuber and Karl Schmuck at the BMW 328 Mille Miglia roadster (1940)
BMW 328 Mille Miglia Roadster called 'Bügelfalte' ('Trouser Crease) because of the lines along the top of body fenders on both sides (pictures from www.bmw.com)
---
8. Wunibald Kamm (1893-1966)
German pioneer of aerodynamics born in Basel (Switzerland) moved as a child to Germany because of the illness of his mother; after a degree in engineering followed by doctoral studies, he worked at Daimler Motoren Gesellschaft (1922-1925), Schwabische Huttenwerke (1925) and the German Aviation Test Centre (1926-1930).
In 1930, Kamm became Professor of Power Engineering and Vehicle Engines at Stuttgart Technical University, where he founded the Research Institute for Power Engineering and Vehicle Engines Stuttgart (FKFS), which allowed him to carry out research of aerodynamics, where Kamm-cars were produced: research cars with a streamlined shape for the low air resistance.
Four experimental cars were produced between 1938 and 1944, two of them based on the BMW mechanics BMW K1 (1938) and BMW K4 (1940)
Kamm discovered in 1934 and published a paper about it, that a cut off butt of the car body favors its aerodynamics by increasing downforce and reducing drag, therefore, increasing car's speed; today, the cut off rear of the car is often called the " "Kamm-back" or the "Kamm-butt", the idea was patented by Kamm's collaborator – Reinhard von Koenig-Fachsenfeld in 1936 in Germany and in 1944 in the US (see below)
Together with von Koenig-Fachsenfeld, Wunibald Kamm built in 1938 a car based upon BMW 328 – BMW K1 usually called Kamm-Coupe, two cars based on Mercedes 170V and after them in 1940, BMW K4, called also the second Kamm-Coupe, a smaller, lower car, with airplane-like plexiglass (PMMA) tails
Interned in after the WW II by the French, Kamm was handed over to Americans and taken for 10 years to the US, where he continued his research, upon his return to Germany in 1955, Kamm lectured at the German branch of the Battelle Institute in Frankfurt am Main until 1958, when he retired because of poor health; died in Stuttgart
First Kamm experimental car built in FKFS
FKFS badge (picture from www.history-of-cars.com)
Kamm' s BMW 328 Coupe Mille Miglia built by Carozzeria Touring, Milan, 1940 (modern reconstruction) with the characteristic "Kamm-back"
Wunibald Kamm in the 1950-ties
Kamm' s BMW K4 Coupe with plexiglass tails
---
9. Reinhard von Koenig-Fachsenfeld (1899-1992)
German aristocrat born in Stuttgart, educated at the Gymnasium in Stuttgart and the Technical University there; as a young man he was a race car and speed record driver, working at the same time as an aerodynamics engineer to improve car performance; Koenig-Fachsenfeld worked first at Zeppelin (1924), but after Paul Jaray had already left, later mainly for Mercedes on their record making cars of the 1930's.
Koenig-Fachsenfeld designed the body of the famous BMW 328 Wendler Stromlinie Coupe, the car he built in 1937 for the industrialist from Rosenheim Hans Klepper with the Wendler in-house coach builder-designer – Helmut Schwandner; Wendlers Stromlinie Coupe of which probably only two existed, incorporates revolutionary ideas of Alfred Jaray
Fachsenfeld patented the ideas he worked on with Wunibald Kamm in in 1936 in Germany, and filed in 1937 for patent in the US, finally receiving it only in 1944
in summer of 1938, Koenig-Fachsenfeld tested a prototype Everling built together with Professor of aerodynamics Wunibald Kamm (see above) based upon Mercedes 170V and in 1940 a light chassis version of BMW 328 – K3. This so-called Kamm-Coupe, it was based on the chassis of 328 model, Kamm-Coupe had a drag coefficient of only 0.25 compared to the 1940 BMW 328 Touring Mille Miglia Coupe with coefficient 0.35, and most of today's cars rate above 30, a newer version of this car was built in 1940 for a race Berlin – Rome which never took place amazes with its form.
In 1939 Koenig-Fachsenfeld designed for the tire company Fulda the test car to test the tires at high speed, which achieved the speed of 240km/h; designed by Fachsenfeld for K.C.Volkert, Sagitta V2 messenger car from 1944 shares VW type 60 mechanics and runs 160 km/h – looks like a Porsche except for the Koenig-Fachsenfeld signature – a third lamp in the middle of the car's front
Being the last descendant of an ancient family, Koenig-Fachsenfeld established in 1982 a foundation opening his 16th C. castle in Aalen Baden-Württemberg) to the series of annual cultural events called "Koenigswege", which are still held each year throughout the summer
BMW 328 Wendler Stromlinie Coupe from 1937 top view with a characteristic Wendler Cheese-grater front grille
Drawings for the 1937/1944 US patent and the so called BMW Kamm-Coupe -from 1940, please look at the windshield
Porsche-like Sagitta V2 from 1944 side view and a typical for Fachsenfeld third front lamp solution (today at the Prototyp Museum in Hamburg
---
Postmodernism 1949 -1960: New ideas within the mindset of the past, comfort and beauty
---
1. Peter Szymanowski (1902- ?)
Already before the war Szymanowski worked as a body stylist for BMW.
In late 1948 Szymanowski returned to BMW, he was one of the pioneers of the reconstruction of the German car industry after the WWII, he soon became the BMW chief designer (1949-1955); he designed <BMW 501 and 502 and a prototype of the small car never produced called E331.
In his beautiful designs Szymanowski drew heavily from the BMW pre-war tradition, which he himself to large extend created, apparently not being able to point new directions in the fast changing world; BMW was facing strong American dominated competition and was searching for its own imago, the decision was to build upon tradition; Szymanowski had full support of the BMW board – the parallel prototype of BMW 501 ordered in 1949 at Pininfarina was rejected – there was fear that its modern features will quickly age – at the time BMW chose to look classic,
Szymanowski's decision to keep the traditional BMW grille kidneys corresponded with the trend in American car designs of the time (Buick), but became crucial for the identity of the brand
Prototype of the BMW 501 body made by Reutter with the characteristic grille and a centrally placed third lamp
Peter Szymanowski himself and the drawings from the époque of his 'baroque beauty' – BMW 501
---
2. Albrecht von Goertz (1914-2006)
American designer Albrecht von Goertz was a son of a German aristocrat (his full name: Albrecht Graf von Schlitz gen. von Görtz und von Wrisberg) and Elsa Meyer – a Jewish mother, Goertz spent his youth at the family estate near Hanover in Lower Saxony.
He first worked as a bank clerk in Germany and when Hitler raged his Nazi anti-semitic policies, Albrecht von Goertz decided to leave Germany (his Jewish mother was later deported to Theresienstadt – the Nazi organized city concentration camp, but survived the war); Goertz first went to England, but in 1936 he decided to leave London for the US, he settled in LA, at first doing simple factory and car repair jobs, at the same time creating in 1939 his first car: Paragon – a hand made concept car based upon Mercury – Goertz's automobile was presented at the NY World Exhibition in 1939
In 1940 Goertz enlisted the US Army, after the WWII and the service in the Pacific (1940-1945), he studied at Pratt Institute; he then drew attention of the designer giant Raymond Loewy (see below>), with whom he worked for Studebaker; in 1953 Goertz established himself in New York as an independent designer (Goertz Industrial Design Inc.).
At an instigation of the BMW American importer and on BMW's order Goertz designed two legendary cars – BMW 503 and BMW 507, both cars because of the strength of the German mark at the time, were too expensive to succeed on the US market
Japanese sources do not confirm his contribution for Nissan in the creation of the celebrated Datsun 240Z, nor is his Porsche 914 involvement was ever confirmed (both suggested by Wikipedia); what is certain that he designed products for several world firms and at the end of his career he designed a grand piano for Steinway & Sons produced on their 125 anniversary
---
3. Raymond Loewy (1893 – 1986)
Classic American designer who literally designed America of the 1940's and 1950's; born in Paris as a son of an Austrian immigrant and a French mother, fought in WWI with the French getting decorated and obtaining the rank of a captain, arrived to America in 1919, naturalized in the US 1938
Loewy's studio in South Bend, IN, worked at through the 1940's and 1950's for Studebaker redesigning the Champion model in 1947 (with the characteristic for Loewy rocket like "spinner" grill on the Champion Convertible 1952 and 1953 and with Champion Sedan 1953 (designed by Robert Bourke from Lowey's Studio); among other designers von Goertz (> see above) worked for Loewy before establishing his own studio
In 1961 Loewy designed from his home studio in Palm Springs, CA, his memorable Avanti, produced only for two years (1963-1964) by Studebaker and continued later by Avanti Motors, a new firm created only to produce this car
In 1957 Loewy designed a modernized prototype of Goertz'es BMW 507; the car was built for Loewy's personal use in France by a small coachbuilder Carrosserie Pichon et Parat (owners: Bernard Pichon and André Parat) in Sens, Burgundy; coachbuilders known at the time for their unique French cars body versions as Panhard Tigre and Salmson 2300; Loewy's prototype of BMW 507 was later donated by him to the collection of The Petersen Automotive Museum, LA, CA, where it still can bee seen today
Loewy and Bourke in South Bend , Indiana in 1953 (picture from Historical Findings)
Sketch for Studebaker Avanti , March 1961, by Loewy auctioned in June of 2012 by Bonhams
Studebaker Avanti – a drawing by Loewy from 1961 and the car itself with Loewy on the left and Sherwood Egbert, Studebaker's President on the right – picture from Avanti Source;
US patent for the Loewy's BMW 507
Loewy with his BMW in the Saint Tropez (France) yacht harbor
---
4. Renzo Rivolta (1908 – 1966)
An Italian engineer, born in Desio in Lombardy (Northern Italy) as a son of a wealthy lumber trader; as a young man he had a passion for motorcycle, car and boat racing winning some races, in 1939 Renzo Rivolta established a company in Genoa producing fridges and heaters called Iso Thermo; in 1942 he decided to move the firm to an estate in a smaller city of Bresso near Milan, because of the war and the Allies bombardments of then fascist Italy; successful in his business, after the war Rivolta went to produce motorcycles as Iso Moto and later also small cars in the company renamed as Iso Autoveicoli S.p.A.(1953)
In 1950 Renzo Rivolta designed and patented a small car, which he started to produce in 1953 as Iso Isetta; BMW looking at the time for a design of a small car, which would use BMW reliable motorcycle engines decided the same year to purchase Rivolta"s design and from April 1955 started to produce first BMW Isettas
Mass produced Isettas preceded BMW 700 and were important as the construction which changed the whole philosophy at BMW – from classic and luxurious to mobile and reliable; since then, the philosophy of mobility became one of the BMW underlining themes
Renzo Rivolta went to produce more cars – today the Iso Rivolta GT and Grifo sports cars (designed for Rivolta by Giotto Bizzarini with the body by Bertone, designed by Marcello Gandini) remain memorable; Renzo Rivolta died suddenly of heart attack on August 19, 1966; his son Piero Rivolta continued father's work
Renzo Rivolta and his patent drawing of Isetta
Rivolta (on the right) in his Iso Isetta
Isetta racing in Mille Miglia in 1953 and in 1954
Iso Rivoltta badge on the car's upholstery
---
The New Functionalism 1961 – 1976: function dictates the form, accent on speed and technical perfection
---
1. Wilhelm Hofmeister (1912-1978)
German designer born in Stadthagen (Lower Saxony), trained as mechanical engineer; Hofmeister was at first the collaborator of Szymanowski, later became the BMW chief designer himself (1955-1970); Hofmeister influenced formation of the new BMW design philosophy, he was one of the creators of the BMW Neue Klasse (New Class, 1961)
Technically new, modern, fast, sports sedan, which changed the automotive industry for decades; his innovative BMW 2000 C (1965), where he continued Bertone's ideas, was unjustly criticized at the time as a 'greenhouse' while the car's lamps were called 'Asian eyes'; Hofmeister retired from BMW in May of 1977.
More a skilful manager than a stylist in the times when all things produced required technical drawings made by hand by draughtsmen, Wilhelm Hofmeister was memorized for the characteristic design of the side window at the C-pillar – so called Hofmeisters's kink (German: Hofmeister's knick). It had been shown for the first time in 1961 on the BMW 3200 CS, so most likely it was designed by Bertone; nonetheless it is today attributed to Hofmeister: Hofmeisters's kink – a characteristic design of the C-pillar has been repeated in all BMW cars and remains today one of the important elements of the BMW's body design.
Hofmeister with the model of the BMW 2500/2800
Hofmeister, Fritz Fiedler, Eberhard Wolf and Alex von Falkenhausen – creators of the Neue Klasse at the BMW 1500 in 1961
BMW 1500 – first car of the Neue Klasse shown for the first time in Franfurt in 1961, produced from 1962
So called 'Asian eyes' on BMW 2000 C – BMW technical drawing from 1964
Prototype of the 'Hofmeister kink': American design of Dodge Kaiser from 1951
---
2. Giovanni Michelotti (1921 – 1980)
Italian designer born in Turin, Michelotti began his career as an apprentice with Carozzeria Farina in Cambiano (today Pininfarina S.p.A.); Michelotti opened his own studio in Turin in 1949: Studio Technico e Carrozzeria G. Michelotti, Torino was located at Corso Francia 28, while Michelotti's car body workshop in suburb of Turin Orbassano.
In 1950's Michelotti worked for several other Italian design studios working closely with Alfredo Vignale, owner of Carrozzeria Alfredo Vignale (est. 1948 – closed 1974, although name Vignale has been given also to later cars) as well as with Bertone and Ghia; Michelotti was known for his daring designs for Triumph (as Spitfire and TR4); working closely at BMW with Wilhelm Hofmeister, Michelotti designed BMW 600 (Isetta development), a small sports car BMW 700 and in 1958 BMW 3200 Vignale – a prototype of modernized and cheaper version of BMW 507 presented on 31 of Oct. 1959 in Turin and called today BMW 3200 Michelotti Vignale, the cars still exists
The most important Michelotti's contributions to the BMW's tradition were: a two door version of the New Class BMW 1600 (1600-2, later 1602) and the revolutionary in its aesthetics BMW 2002 (although this credit is now disputed, with some historians pointing at Georg Bertram as the one who drew the car for Hofmeister); both cars were essential for positioning of BMW on the market as the sports cars manufacturer; Michelotti also designed a first BMW station car called from now on traditionally a touring
A prolific designer (a legend goes that he would have a design within one night) Michelotti designed also cars for DAF, Ferrari, Fiat, Lancia, Maserati, Reliant Scimtar and Volvo
Michelotti's drawing for the new BMW 507 (1957), so called later 3200 Michelotti Vignale
A blue print drawing by Michelotti (for a Volvo PV 444 sports version)
---
3. Alex von Falkenhausen (1907 – 1989)
from famous German military family, Alex (Alexander) Freiherr von Falkenhausen studied at Munich Technical University (1928-1934), was involved as an engineer before the WWII in the development of the BMW 328 and most of BMW motorcycles of that time whilst he was an avid motorcycle racer himself; after the WWII he established his own sports racing firm in Munich: AFM – Alex von Falkenhausen Motorenbau, where he tuned pre-war BMW 328 for car racing wining himself in 1948 German Sports Car Championship.
A skilled constructor and the racing fanatic Falkenhausen returned to BMW in 1954 and from 1957 was the head of the engine development, Falkenhausen although never was a stylist was instrumental in the creation of the so called Neue Klasse – New Class leading the team which prepared the power train for the car, he is also credited for his contribution into the construction of the BMW 2800 CS (E9 -1971), Falkenhausen retired in 1976
Von Falkenhausen and BMW 502 ca. 1955, picture: BMW Historical Archive
As a racing driver in 1949
---
4. Georg Bertram
German stylist working at BMW, the co-designer with Manfred Rennen under Wilhelm Hofmeister of the so called Neue Klasse (New Class) – compact sports saloons launched by BMW in 1962, with the BMW 1500 as the first car, Bertram worked also with Rennen and Michelotti on BMW 2002 and 2002 touring; he is often credited with the first drawing of BMW 2002; Bertram also designed the BMW's first concept of the touring car (van) called City
BMW 2002 – a drawing by Georg Bertram from May 1965
---
5. Nuccio Bertone (1914-1997)
Classic Italian designer, born as Giuseppe Bertone in Turin where he spent all his life, Bertone began his automotive career in car racing as a driver at the same time working for his father's small coach firm, which he later took over and turned into one of the world's best body designing and car coaching firms; he is known for his work for Alfa Rome, Fiat, Ferrari, Volvo;
Nuccio Bertone designed the BMW 3200 CS, a V8 sports coupe which followed ideas of an earlier Bertone's work – a small sports car Alfa Romeo Giulietta Sprint (1954); Carrozzeria Bertone in Grugliasco suburb of Turin produced steel bodies of the BMW 3200 CS, which were transported on trucks to BMW in Munich for paint and further assembly; 602 cars were made; a good deal of work on BMW 3200 CS has been done by Giorgetto Giugiaro (>see below), a young designer who worked between 1960-1965 at Bertone and whom some credit with the whole design of the car
BMW 3200 CS was the first BMW car with Hofmeisters's kink (>see Wilhelm Hofmeister); the car's design also incorporated some other characteristics of the BMW ethos, repeated later in other cars as small, almost symbolic, central grille kidneys, a BMW emblem on C-pillar, unusually simple for its time treatment of the car's body void of any horizontal chrome lines
Bertone's 3200 CS and a prototype from 1970 of BMW 2200ti Garmisch by Bertone, for many an inspiration for Gandini's BMW E12
---
6. Pietro Frua (1913-1983)
Influential and prolific Italian designer of 1950's and 1960's – Pietro Frua never worked for BMW, but being responsible for several Glas cars, the company which has been taken over by BMW in 1968, and attempting to continue in the same role with BMW, Frua built four complete different prototypes of the new BMW cars and made dozens of new designs for BMW, some historians maintain that Frua influenced through his proposals aesthetics of the BMW cars of the time; apart from his concept cars Frua designed for BMW facelift for the BMW 1804/BMW 2004 – an updated version of Glas 1700 which has been produced in South Africa (1973-1974)
Frua was born in Turin as the youngest of four sons of the Fiat employee and a woman tailor, after the basic school he attended Scuola Fiat – Fiat professional school (1928-1930), where he was trained as a technical draughtsman and at 17 he started as a draughtsman's help at Farina to become at 22 the head of styling; in 1937 he established his own studio and in 1944, directly after the war, its own coachbuilders firm; Frua designed and in many cases built in his carozzeria over 200 cars for Fiat, Maserati, Lamborghini, Osca, Lloyd, AC, Renault, Citroen, Ligier, Peugeot, Audi, Borgward, Glas, Volvo, Rolls Royce
Frua died in Turin of brain tumor just weeks from his 70th birthday, shortly before his death, he married his longtime assistant Teresa "Gina" Bussolino (1907-1990)
Pietro Frua with the model of Renault Caravelle he designed
Pietro Frua's design for Volvo: P1800 Raketen
Frua's prototypes of BMW 2000ti Coupe from 1968 and BMW 3000 V8 Fastback coupé from 1967
Prototypes of 2002ti GT4 Coupe II from 1970 and BMW 2002ti Coupe I by Frua from 1969
A study by Frua for the facelift of BMW E12 – the car designed by Marcello Gandini (pictures from http://www.pietro-frua.de)
---
7. Marcello Gandini (*1938)
Italian designer born in Turin as a son of the orchestra conductor, from 1963 an automotive designer and from 1965 with Bertone as a chief designer – he took the post left by Giugiaro; Gandini designed at Bertone Lancia Stratos (first prototype 1970.
Marcello Gandini working at Bertone for BMW co-designed BMW E12 – the first 5 series (1972); Gandini invented the first ever scissors doors (on his Alfa Romeo 33 Bertone Carabo Concept); Gandini continued ideas from the Carabo Concept designing Lamborghini Countach LP400 (1974); other Gandini designs include legendary Lamborghini Miura and Ferrari Dino; after 1980 Gandini left Bertone to work as an independent designer; he lives and works now in the 17th century Villa Gran Vigna, 20 miles from the Turin center
Marcello Gandini © www.stratosmania.com
Gandini and Alfa Romeo 33 Bertone Carabo
---
8. Paul Bracq (*1933)
French designer born in Bordeaux, as a teenager he made wooden models of existing and imaginary cars, educated in France at École Boulle in Paris (1950-1953) as a sculptor (working in wood), BMW chief designer 1970-1974
Bracq started designing in 1953 at first making drawings for the Chamber of Coachbuilders Association in Paris, later working with Citroën under Philippe Charbonneaux; during his military service in then officially still occupied by the Allies Germany (France had its own occupation zone and Bracque served as an army sergeant), Bracq made first contacts with Mercedes to become later (1957) head of Daimler-Benz's Advanced Design studio in Sindelfingen.
Bracq designed Mercedes models: 600, 230SL Pagode, 220S Coupé, 250, 220D and W108 series influencing the whole Mercedes style for years to come, in 1961 he married a Russian-German woman – Alice; in 1967he returned with the family to France and was involved in design of the TGV high-speed train, at the same time he designed prototypes of a sports car based on the BMW 1600ti and a coupé based upon the Simca 1100;
From 1970 Bracq was BMW adjoining chief of design and was responsible for all BMW models until 1974: BMW 520, BMW 2002 Turbo, BMW 3 series E21, BMW 630 coupe; Bracq designed also so called Turbo prototype, gull wing doors car which preceded BMW M1 – the last car he designed for BMW just before the 1972 Munich Olympics
He returned to France in 1974 to work for Peugeot (1974-1996); presently retired Bracq lives with his wife in Bordeaux Caudéran suburb, his daughter Isabelle is an artist, his son Boris an industrial designer; Bracq is busy with abstract painting and elegant automotive illustrations
Bracq said about his period at BMW : "I could express with complete freedom my ideas concerning automobile style while respecting the image of BMW of the Seventies." .
---
9. Giorgetto Giugiaro (*1938)
Born in Garessio (Piedmont), Giugiaro has to be noted for his "folded paper" style – the whole era in the car design, promoting simple straight lines which he began
Giugiaro worked at first with Bertone and Ghia, later at his own firm Italdesign (full name: Italdesign-Giugiaro S.p.A. est. Febr. 13, 1968, now led by his son Fabrizio, with offices in France and Spain) ; Giorgetto Giugiaro worked for BMW on several commissions as 3200 CS (still at Bertone – 1961) and M1 (1977), as well as on the concept cars of the sports supercar with a BMW V12 engine called at first as M12: BMW Nazca C2 (1991 and 1992, a version with an Alpina modified V12 engine) and BMW Nazca C2 Spider (1993);
Giugiaro designed for other firms – cars (selection): Alfasud for Alfa Romeo, Volkswagen Golf I (Rabbit) , De Lorean DMC 12 stainless steel car (3 cars gold plated), FSO Polonez, Renault 19, a motorcycle – Ducati 860 and Nikon F3 and D3 SLR photo cameras
A drawing by Giorgetto Giugiaro
De Lorean DMC 12 by Giugiaro ((1975)
---
Constructivism 1977 – 2000: Luthe and his followers, the maturity of the BMW design language
---
1. Claus Luthe (1932 – 2008)
German designer born in Wuppertal, started his career as an intern at small busses factory Karosseriebauer Voll in Würzburg and continued to work there for almost six years (1948-1954), as a young designer Luthe went to work for Fiat AG in Germany (1954) and worked later as a designer at NSU, where he created historical Ro80 model (designed in 1964, launched 1967) powered by the Wankel rotary engine; Luthe also designed NSU K70 produced later with modifications by Volkswagen, as well as Audi 50, which later was for several years mass produced by Volkswagen as Polo I
Claus Luthe was invited to BMW by Hofmeister, he became the BMW chief designer from April 1976, he oversaw the creation of all fantastic BMW cars of the 1980's as E30, E31, E32, E34 and later E36 as well as basic styling of E38 and E39; Luthe managed to continue what Hofmeister started – to chart the BMW design into the modern times not losing the individual character of the brand; his style was postmodernist, he said once commenting on E30 3-series: To maintain our tradition we do not need the 'way out' designs', The important is continuity (…). It is essential that we build a lasting image of what BMW is (…) and not to be swayed by ever-changing fashion trends.
Cars from this era amaze with their simplicity and modern thinking: E30 3 series with the facelift in 1990, E 31 8 series, E32 7 series and especially E34 5 series quarter of the century after the introduction (1988, designed by Spada under Luthe, built until 1996) remain classics; cars made under Luthe clearly belonged to one family of BMW cars
Luthe withdrew from work at BMW in spring of 1990 after the family tragedy, but his way of thinking was continued: the member of the board Wolfgang Rietzle supervised the BMW design along the lines of the design master, 5 series E39 designed by Nagashima (from 1996) remains one of the best BMW designs ever
Psychologically unable to return to work, Luthe served at BMW from 1992 as an external consultant. He died in 2008 in Munich and was buried on Westfriedhof cemetery.
Luthe said in one of his interviews: "People do not see good design."
Claus Luthe at models of his cars at different times of his life – first three pictures at NSU: Luthe is on the right on the first picture, with NSU Prinz Coupe Sport model (1958), with R80 (1964) and finally at BMW with E32 7 series
---
2. Klaus Kapitza
German designer born at Baldham, worked in mid 1970's at Formula 2 team of Wilbert "Willi" Kauhsen, for whom he designed a prototype of the racing wing car looking like Lotus 79 (1978) with an idea to race in the Formula 1, but the car performance has been mediocre, the collaboration fell apart and Kapitza went to work for Ford in Cologne, where he collaborated on Ford Capri III, Escort and Sierra;
In early 1984 Kapitza has been recruited by Luthe to BMW; he became the head of the Exterior III Studio, he inked one of the most important cars in the BMW history – E31 8 series (1989); the BMW wheels he designed as well as some technical solutions (u-shaped rollover bars for a convertible) were patented in the US; Kapitza led for some time BMW Forschung und Technik design studio, created in 1985 lab to point to the new directions in car design.
Kapitza led the development of Z-13 (shown 1993), The Personal Car – a tiny three-seater powered by a four-cylinder mid-engine derived from motorcycle with 1100-cc and 85 hp. This car project, which has been for years secretly developed by BMW, has never been produced (>>>> illustration).
Kapitza later worked at Porsche; at present he lives in Germany and works as an independent consultant also advising BMW, he was a member of the Jury to select best modelers for BMW design dept. in 2002; in 2009 Kapitza published a book about Alfa Romeo cars and people (Die Alfisti, Verlages Brüder Hollinek, Purkersdorf, ISBN: 978-3-85119-318-3, where hard cover edition is only 999 and each book is signed by Kapitza), recently also an illustrated calendar with his text about 13 legendary Alfa Romeo cars (illustration)
---
3. Ercole Spada (*1938)
Legendary Italian designer born in Busto Arsizio, a small city in Valese, 25 km North of Milan; educated at Istituto Technico Industriale Feltrinelli in Milan (1956-1960); Spada started working for Zagato (1960) in Milan, where he became the chief stylist and made several designs for Aston Martin, Alfa Romeo, Lancia (among others Fulvia), Rover, Volvo and Ford
Ercole Spada became BMW chief stylist (1976 – 1983) under Claus Luthe; working closely with Luthe, Ercole Spada designed two cars which until today feel modern: BMW E32 7 series and BMW E34 5 series – the car which for the first time after the WWII established BMW as a strong Mercedes competitor
In 1983 Spada returned to Italy to lead IDEA Institute and to design for the Fiat concern (among other designs Fiat Tipo in 1988 and Ferrari Testarossa FZ 93); at present Ercole Spada leads his own designing firm established with his son Paolo Spada, young Polish designer Wojtek Sokołowski and Domiziano Boschi – called Spada Concept, based in Moncalieri near Turin.
Lancia Flavia Zagato – a drawing by Ere Spada from 1962
BMW 5-series E34 blueprints – a car produced from 1988
---
4. Manfred Rennen
German stylist at BMW, worked with Hofmeister and collaborated on his BMW 2000 C and CS coupe; Rennen has been under Luthe the boss of the BMW Exterior II Studio in the mid-seventies, he worked on BMW E114 RS Cabrio prototype (1968), co-worked with Michelotti and Bertram on 2002 touring (1971), worked with Gandini on BMW E12 – first generation 5 series (1972) and BMW E24 first 6 series (1975) ; later on, he worked with Claus Luthe on BMW E28, E30, E32
Manfred Rennen – a drawing for Hofmeister's BMW 2000 C
A drawing by Rennen for BMW 2500 E3
A drawing for BMW 1600 RS Cabrio Targa – like prototype
A small car drawing by Rennen which might have been a prototype of BMW 1 series (1975
---
5. Harm Lagaay (*1946)
A bravado Dutch designer born in the Hague as Harm Lagaaij, studied at University of Technology in Delft and began his career with Olyslager in Soest (Netherlands), in 1971 at the age of 25 was already with Porsche where he designed Porsche 924, later on he worked as a head designer for Ford in Cologne (1977-1985) and for BMW (1985-1989)
Lagaay was behind the design of the BMW Z1 (designed 1985-1986), an experimental small roadster where Z was taken from Zukunft (German: Future), the body presented for the first time in 1987 and produced between 1989-1991; Z-1 had an aerodynamic design, removable body panels with an idea of simple color change of the whole car, side panels made from plastic, electric doors which open by sliding down into the car's body; Z1 development led BMW to several patents; however despite an initial enthusiasm and speculative buying, the car felt underpowered and did not sell – only 8000 cars were made
Lagaay – an avid sports car driver himself, returned to Porsche in 1989 after Urlich Bez, director of BMW M-Technik Gmbh, who led the Z-1 project, also moved there; Lagaay led Porsche's Style Dept. in Weissach – he designed three consecutive versions of their 911 model, constantly working on its design as well as Porsche Carrera GT, 966, Cayenne and Boxter.
At the beginning of his designer's career he still took part in his free time in car races as a driver, his designs were admired but were also a subject to petty critics – the headlights he designed at Porsche were called in Germany the spiegelei, or fried egg; he retired in summer of 2004 after 15 years at Porsche stating to have fulfilled his life's mission
Harm Lagaay photographed by a German photographer Michel Lange
---
6. Boyke Boyer (*1942)
An Austrian educated at the Vienna Academy of Fine Arts (Akademie der bildenden Künste) – one of the world's oldest art academies, to which fifty years earlier Adolf Hitler has been denied access because of lack of talent (twice in 1907 and 1908), Boyer has been admitted and after studies pursued the designer career at Ford in Cologne and in 1978 was recruited by Claus Luthe to BMW to lead one of the exterior design studios
Boyer went to design for BMW E36 3 series and E38 7 series and led one of the BMW design studios; he worked with BMW until the years of the Bangle era as the Head of Exterior Design (2002-2007); there were 28 patents filed by BMW under his name at the end of 1970-ties, 1990-ties and further until 2005 (like for a design of the front of the car or design of the wheel); presently retired
Boyer said once: There's no single language that can express what we're trying to do, So we make up our own language. (quoted after 'Fast Company', 2002)
---
Deconstructivism: Bangle era 2001 – 2010, cars as art, accent on emotion, seeking to surprise
---
1. Chris Bangle (*1956)
An American designer who has been the most influential figure in BMW design of the past twenty years
Christopher Edward Bangle was born in Ravenna, Ohio; raised in Wisconsin, he attended Wassau West High School (1972-1975) and the University of Wisconsin, Liberal Arts Studies (1975-1977), Art Centre College of Design in Pasadena, CA (BS with honors and Master in Industrial Design (1977-1981); during his studies he worked as assistant designer at Hartkopf Associates (1978-1981)
After the studies Bangle worked at first at Opel in Germany (1981-1985) and Fiat becoming in January of 1992 the Director of Centro Stile Fiat – one of the main design centers in Turin; he participated in the design of Fiat Coupe and Alfa Romeo 145
Bangle became BMW's Head of Design Development in October of 1992 after a difficult period subsequent to sudden departure of Claus Luthe, Bangle became the Head of the Designworks 1996-2001 – US design subsidiary purchased by BMW from American veteran designer Charles (Chuck) W. Pelly in 1996; Bangle was allowed to search for the new design ideas for the BMW – he called it Deep Blue Project; within the frame of it young designers staying in a Malibu beachfront house were asked to start anew using their emotions while disregarding technical ramifications
Bangle was BMW's overall Head of Design 2007-2009; he was responsible for the designs of the BMW E81 / E82 / E87 / E88, E90 / E91 / E92 / E93, E60 / E61, E63 / E64 , E65 / E66 and E53; Bangle himself spoke about expression of power in car's design and BMW signature elements in the body of the car; his ideas were called deconstructivist in a sense that his designs moved away from the traditional function>material>form equasion; he also spoke about flaming surfaces of the body of the car (talking about the first Z4 in 2002) meaning simpler surfaces connections of the car's body (using in the production new panel pressing technology)
Bangle proposed very distinct BMW models – directed at different customers BMW model range proposed intentionally different cars; Bangle liked to provoke customer with unconventional styling: cars from that era often looked cheaper than their actual price tag, they stunned with novelty of detail, provocative use of new but often obviously economical materials; luxury did not interest Bangle – he was after adventure; Bangle renewed BMW's design – made it exciting, sometimes even controversial; the cars Bangle supervised were often hated because of their design but sold very well
Each prototype designed during the Bangle was a design statement with consequences for the future of the BMW design
The so called ß "Bangle butt" – an aggressive rear shape of the E65 7 series (in fact designed by van Hooydonk) has been attributed to Bangle, as he was not afraid to move the BMW styling in this aerodynamically sensible direction;
Gifted speaker and a renown seller of his ideas, Bangle worked closely with Adrian van Hooydonk who succeeded him at BMW; after the departure from BMW, Chris Bangle established his own design studio in Italy (ßsee the drawing by Bangle from the website of his studio) at his home in Clavesana, Cuneo in the region of Piedmont, 70 km South of Turin; Bangle is at present Samsung designer responsible for their laptops and smart phones; among his new designs there is a bottle for Hennessy famous cognac; Bangle published recently a work of fiction: ß "Peter Teufel. A Tale of Car Design in 3 parts". (On August 29, 2012 Bangle's book was on the position 380 144 on the list of paid bestsellers at Amazon Kindle Store).
Bangle said in one of his lectures: Cars are art, cars are what we are.
Statement on his website directed at young designers says: Design equals meaning.
---
2. Henrik Fisker (*1963)
A flamboyant Danish designer with an obvious taste for luxury, studied at Art Centre College of Design Europe, Vevey, Switzerland (1989), 1989-2000 designer with BMW in Munich, President of Designworks in California: January 2000 – Sept. 2001; Fisker designed BMW Z8, worked on X5, later on he went on to design for Aston Martin; Fisker leads now his own coach building firm Fisker Coachbuild LLC in Irvine, CA, USA
Fisker received $500 m. loan from the US government in Sept. 2009, to produce electric cars and in 2011 hybrid Fisker Karma super car produced in Finland went on sale with the 3000 cars sold in presale (but not yet made) and the first car delivered to the actor Leonardo di Caprio. The price of Fisker Karma basic model is $96 895 (2012 model), but the buyer will get $7500 federal tax rebate from the US government
Henrik Fisker's autograph
A drawing by Fisker – photo from Fisker Coachbuild LLC
---
3. Frank Stephenson (*1959)
American master designer born in Morocco, went to high School in Madrid, Spain graduated from Art Center College of Design in Pasadena, USA
At BMW: 1991-2002, Stephenson penned the new Mini One R50 and Mini Cooper leading the team which developed the E50 car in Munich (parallel development in England by the team at Rover has been dropped in 1995); Stephenson also co-authored the first X5 E53 (2000) and the Mini 2001
Stephenson moved in 2002 to Ferrari Maserati in Italy, where he designed Ferrari F430, Maserati MC12, supervised Pininfarina on Maserati Quattroporte and Ferrari 612 Scaglietti; later as the boss of Fiat and Lancia Centro Stile Fiat in Turin (2005) Stephenson supervised the creation of the Fiat 500 Nueva designed by Roberto Giolito, and from 2007 he worked at Alfa Romeo in Milan, where he led the creation MiTo, designed by Juan Manuel Diaz, 2008, the car's name comes from names of two cities – Milan and Torino – Turin
From April 2008 Stephenson is the Director of Design at Mc Laren Automotive in Guildford, England; according to the press release by the watch maker Tag Heuer Stephenson designed their MP4-12C Chronograph (2011)
Frank Stevenson may be followed on Twitter on Emotional Design pag
---
4. Davide Arcangeli († 2004)
Italian automotive designer who first worked for Pininfarina, where he designed Honda Argento Vivo – a sports car prototype (1995) and Peugeot 406 coupe (1996) ;
Arcangeli later went to BMW, where he designed E60/E61 fifth generation 5 series; the car has been subject of many critics not only because of the separated from the volume of the main body Bangle's butt, but also because of the whole front, much lower than usual at the time, with strange non-BMW headlamps which remind of Arcangeli's Peugeot past and a knob of iDrive on the middle console inside, which seemed unpractical and has been the subject of the usual idiotic jokes by the popular BBC car program, but has been later taken over by all other important car brands including Audi and Mercedes; what has been really important was the fact that the car sold well outselling competitors and becoming the segment leader in the US, above Mercedes E-class and Toyota Camry
Davide Arcangeli died in November of 2004 of leukemia
Two tone body of Honda Argento Vivo, spider designed by Davide Arcangeli for Pininfarina, with aluminum parts not painted but polished – 1995
Peugot 406 coupé – a drawing by Arcangeli
Fifth generation of the BMW 5 series
---
5. Chris Chapman (*1966)
American designer, grew up in Pasadena, educated at Art Center College of Design in Pasadena, CA (Bachelor of Science degree in Transportation Design -1989), Chapman started to work as a designer at Isuzu; his UX-1 won Best Concept at the Tokyo Motor Show in 1993; the following year he joined BMW Designworks USA
during his time at BMW – both at Designworks USA and at BMW in Germany (1994 – 2011 with two years in Munich), Chapman was responsible for the X5, X Coupe concept, 1-series (E87), CS1 concept, 1-series coupe, X5, X3 and Z4
Chapman last position at Designworks USA was Director of Transportation Design; at the end of 2011, Chris Chapman left BMW to become since January 3, 2012 Hyundai's Chief of Design, based at the company design center in Irvine, California; there were press reports that Chris Bangle was first asked to fill this position, but his financial demands ($ 8.9 million a year) were too high for Hyundai
---
6. Nadya Arnaout (*1972)
German automotive interior designer educated at Hochschule für Gestaltung (HfG – Academy of Art and Design) in Offenbach am Main, Hesse and at Art Center College of Design in Pasadena, CA; since 2002 with BMW Designworks in Los Angeles area, at first as product designer and since 2006 as an automotive interior designer, now with Tesla Motors (Palo Alto, CA), at their Los Angeles satellite office
Arnaout designed the asymmetric interior of the second generation BMW Z4 E89 and the interior of the CS Concept
in October of 2010 Arnaout left BMW Designworks to work as a lead interior designer at Tesla Motors (under Franz von Holzhausen), while the electric car company went to collaborate with one of the BMW biggest competitors – Toyota
A drawing by Nadya Arnaout
Arnaout modeling the Z4 door panel
---
7. Richard Kim (*1980)
Automotive designer of Korean descent, studied at Art Center College of Design in Pasadena, CA (BS, 2004) and California College of Art (BA, 2003) in San Francisco, he started his designer's career with Volkswagen in the Europe (2002), Volkswagen and Audi in America (2003) and later with Nissan (2003-2004 – 1 year); since January 2005 with Designworks in California as a Senior Automotive Designer; Kim also teaches Art Center College of Design (from 2006)
Kim designed the BMW Hydrogen the concept car Powered Salt Flat Racer – a racing car built reusing ordinary materials like used oil barrels and old barbecue lids as the main building material of the car chassis and wheels; Kim designed the body of the new BMW X-1
Richard Kim is from July of 2012 Senior Lead Designer at GM Advanced Design in Los Angeles
Richard Kim's final thesis drawing from Art Center College of Design, 2004
Classic BMW's drawn by Kim
---
Neoclassicism, from 2011: return to already existing BMW design language
---
1. Adrian van Hooydonk (*1964)
Dutch designer born in Echt, Netherlands as Adrian van Hooijdonk, he went to school and Lyceum also in Echt – a small municipality in Limburg predominantly Catholic province of the Netherlands squeezed between Germany and Belgium; studied at University of Technology in Delft (diploma 1988), where almost 20 years earlier Harm Lagaay studied and after two years of work continued his studies at the renown not existing anymore Art Centre College of Design Europe, Vevey, Switzerland (1989-1990).
Career: first for a year a free-lance designer (1988-1989), then a product designer with GE Plastics Europe in Bergen op Zoom (1989-1990); after the Automotive Design studies at Vevey – since 1992 with BMW in Munich as an automotive exterior designer; since 2000 with Designworks in the US as the Head of Automotive Exterior Design Dept and since 2001 as the President of the Designworks, US responsible among others for the gull-wing Z9 Gran Turismo prototype, BMW 6 series E63/E64 and E 65 7 series
In his Z9 GT design (1999) van Hooydonk introduced the sculptured design idea, which for more than a decade influenced BMW body styling; the Z9 design brought also several future solutions of the BMW cars to come as flat almost symbolic front grille, long hood, aggressive but short rear, sculptured addition on the trunk serving as a rear wing called later Bangle butt
Van Hooydonk led Designworks from Sept. of 2001 until 2004, during his time there he penned a number of different designs, among others chairs designs for Emeco – American iconic aluminum chair producer,
Van Hooydonk worked closely with Chris Bangle, he co-authored the radical design policy of the BMW new cars development at the beginning of the 21c., he became BMW Head of the car design 2004 and from Febr., 2009 after departure of Chris Bangle, he became Director of Design, BMW Group and in 2011 the vice-president of BMW
Van Hooydonk's design policy put an accent on quality: traditionally understated exterior shapes are completed by high value interiors with repeated design features in different BMW models: all BMW cars belong again to the same family
Drawings by van Hooydonk for BMW Z9 GT and the concept car from 1999 at at The BMW Museum, Munich
Last picture: Adrian van Hooydonk and the first project made under his lead: BMW Vision EfficientDynamics car concept
---
2. Karim Habib (*1970)
Canadian designer born in Beirut, Lebanon; as a boy Karim Antoine Habib went to elementary school in Iran, France and Greece before moving to Montreal, Canada in 1982; where he completed College Stanislas (1988) and studied later mechanical engineering at McGill University; with the bachelor degree he went to study automotive design first at Mc Gill and later at non existing today Art Center College of Design Europe in La-Tour-de-Peilz, Switzerland, 1994, completing his studies at Art Center College of Design in Pasadena, CA – BS i Transportation Design 1997; directly after the studies he went to work for BMW first at Designworks in CA, and from 1998 in Munich
His first project at BMW was the interior of the E60 5 Series; until March 2009 Habib was the Team Leader at The Advanced Design for BMW in Munich, where he designed the body for the last BMW F01 7 series
Apart from F01 7 series Habib designed the Concept CS car presented in Shanghai in 2007
Habib left BMW in March 2009 to work for Mercedes in Stuttgart as the Head of Advanced Design; within a year he was making his mark there (with the studies of Mercedes F700 and presented in Geneva in 2010 BMW-like Mercedes F800 Style Future Concept with rear doors sliding along the car's body and no pillar between the front and the rear doors);
However only 2 years later, from March 1, 2011, Habib returned to BMW to become the head of the BMW Exterior Design in Munich – he was quoted in the BMW press release as 'delighted about coming back'. Some press comments suggested that his stay at Mercedes might have been some kind of a mission – spying or just opposite: a step towards an exchange of ideas between Mercedes and BMW.
On June 1, 2012 Karim Habib became the Director of Design at BMW under the company's vice-president Adrian van Hooydonk.
Karim Habib and his drawings
Mercedes F800 Style Concept – a project clearly in the BMW-like spirit, aiming at sport drivers and not at selling more taxi cabs; while certainly convenient – sliding doors were used for decades in delivery vans, now used in the Mercedes cab would send most of taxi drivers to the mental institutions for cure
---
3. Jacek Fröhlich (*1965)
Polish born German designer, spent youth in Polish Silesia, educated at IInd Jan Matejko Lyceum in Siemianowice Śląskie (German name: Siemianowits; baccaulerat 1984), studied Architecture at Silesian University of Technology, Gliwice, Poland (Master 1989) and after moving to Germany – at Pforzheim University of Applied Sciences in Design, Technology and Business (1989-1993); at first based in Cologne, Fröhlich was the head of the BMW Exterior Design in Munich (January – October 2010)
Jacek Fröhlich designed BMW F10 / F11 – the newest 5-series; Fröhlich said that designing the new 5 series, he strived to make 'the car feel longer and sporty, like a sports coupe'; well, he succeeded because the car looks classic and from its beginnings became immensely popular
Drawings and photographs of Fröhlich: on the second photograph he points to the essential line in the car body design, so called "zicke line" [pronounce: tsickeh line] = sensitive line while in German "zicke" is a mixture of bitchy and prudish
---
4. Nader Faghihzadeh (*1976)
German/Iranian designer born in Tehran, educated in Germany: Transportation Design MA in University of Pforzheim 2001; Degree Project at Designworks Munich 2000/2001 ('Visionair' Transforming Vehicle).
Started as Exterior Designer in Advanced Design BMW 2001-2006, BMW Interior Design 2006/07 (designed interior of the BMW 7 series F01/F02); BMW Exterior Design from 2008
One of the most interesting contemporary automotive designers, an impressive draftsman Nader Faghihzadeh is today a Senior Exterior Designer at BMW in Munich, he designed the new BMW 6 series (F12/F13) and BMW F06 Gran Coupė
Drawings and photographs of Nader Faghihzadeh
---
5. Joji Nagashima (*1955)
Japanese designer born in Tokyo and educated in Japan and at Wayne State University, Detroit, Michigan (graduated 1980) – a university where Robert Kearns, an engineering professor at Wayne, invented the first intermittent car windshield wipers (in 1964) – an educational institution traditionally connected with the auto industry and the Detroit Auto Shows
Since 1988 Joji Nagashima has been with BMW, he is now based in Munich; a modest man and a brilliant designer, Nagashima designed BMW E36/7 Z3, the E39 5 series and E90/E91 3 series; Nagashima has 22 international patents with BMW for the car body design; his designs were classic at the moment of their creation, E39 5 series designed by Nagashima under Rietzle will remain one of the most beautiful BMW's ever created
Jojii Nagashima: design sketch for the BMW E90 3 series
Nagashima working on a clay model
---
6. Juliane Blasi (*1977)
German designer educated at Pforzheim University of Applied Sciences in Design, Technology and Business (Master from Transportation Design, Febr. 2003: A Design Scenario for an Interstellar Space Mission – with Marcus Wallmayer)
Directly after the studies, since 2003 – with BMW in Munich with a six months interval at Designworks in California; Blasi designed one of the most beautiful and most desired BMW's of last years – E89 second generation Z4, which became also a commercial success; the Z4 design received in July of 2009, an International Design Excellence Award (IDEA) presented annually by the Industrial Designers Society of America (IDSA)
Blasi designed recently BMW Vision Connected Drove prototype, which is an attempt to find a new shape of a sports car
Blasi says: "If you look at the car you should not be able to see whether it was designed by a woman or a man"
Photographs from www.carbodydesign.com
A concept drawing by Blasi for a Vision Connected Drive car
Promotional drawings by Blasi and Robert Hlinovsky (BMW interior designer) from February 2011
---
7. Ulf Weidhase (*1953)
German designer, since 1988 with BMW, from 1999 Head of Design BMW M and BMW Individual in Munich, he worked on BMW E34 M5 (1989), BMW E36 M3(1992), BMW E46 M3, BMW Z3 M-Roadster, BMW Z3 M-Coupe, BMW E39 M5, BMW E60 M5 (2004), his thinking is conservative and subtle, his decisions over the years were impressive: M-cars follow the idea, that power should be felt not shown
---
8. Christopher Weil (*1976)
German designer raised in the mountain region of Bavaria, went to school (Grundschule) in Partenkirchen, completed the high school at Ettal (1994) and later studied at Pforzheim University of Applied Sciences in Design, Technology and Business (1996-2000 Master sponsored by BMW); directly after studies with BMW in Munich
Weil designed the body of the BMW 5 series Gran Turismo; Weil says about Gran Turismo: For the first time, we developed the car from the inside out. and BMW cars are defined by emotion. I think when you're looking at the car, any BMW, you're emotionally attached;
In our view: BMW Gran Turismo is an innovative. and truly beautiful car, but it is also big and expensive; it does not sell because most of people with families who need this type of car cannot afford it, while people who can afford it, live another life and simply do not need a multifunctional car; some of the usual clients of the 7-series bought GT, while the real target group would be among the clients for lower models of the BMW 5 series
Weil is now a Senior Designer at BMW, he works on the Gran Turismo 3-series
---
9. Peter Gabath
German designer living in Jesenwang and working for BMW in Munich, co-designed E92/E93 3-series coupe & cabrio, co-designed BMW E65 7 series (the one with the Bangle butt); his designs done jointly with Markefka for front and rear bumpers were patented by BMW, some of his designs received a separate patents, in total he received 29 patents
Gabath led the teams designing the E90 3-series and the Z-4 E89
Gabath said about looking at the car as a whole: It's nice not to read every corner of a car in a moment. A BMW should take lots of reads to see it all.
A drawing from the US patent for Gabath and Markefka
Peter Gabath photo: © Archivio Perini
---
10. Hans-Bruno Starke
German designer, from 1985 with BMW and from 1987 with the M division (M GmbH), co-designed several of the M cars, namely E92 M3, for which Starke designed the components of the car 's body; the whole idea behind M-cars is that of understatement: high performance car seemingly not much different from any other in similar body; special feel obtained through subtle changes of many components and delicate change in detailing
---
11. Pierre Leclercq (*1973)
Belgian designer educated in Switzerland and the US at Art Center College of Design (1996-2000), since August 2000 with BMW, at present a Senior Designer with BMW in Munich, Leclercq co-designed BMW E70 X5 and designed the body of E71/E72 X6; he say about his design of X6 that: it has been drawn emotionally and executed rationally; in one of his TV interviews he hoped to be able to afford to drive X6 one day
Leclercq working on a clay model of BMW X6 (photo from www.carbodydesign.com)
---
12. Nico Huet (*1968?)
French designer born as Nicholas Huet and educated at the traditional Lycée Descartes in Tours (1983-1987) and at the Strasbourg University (?), now a senior exterior designer with BMW in Munich
Nico Huet designed the newest BMW 1 – series F20; in our view he departed from the neo-classicistic designs of the past few years at BMW: the car seems sporty, simple, a bit rough and while some people criticize it – we simply like it
---
13. Eric Goplen (*1966)
American designer born as Erik Kristopher Goplen in Eugene, Oregon; raised in Los Angeles, as the son of an architect and a piano teacher, he designed his first car at the age of 8, he went to Birmingham High School in California (1980-1984). later studied engineering at the California State University of Northridge (Cal State Northridge: 1984-1989); Goplen has been an intern at Designworks as almost 20 years old student
Goplen started his designer's career in January of 1987 at Superior Industries International – one of the world's largest suppliers of cast and forged aluminum wheels for cars (also for BMW), moving already in June of 1987 to then owned by Charles Pelly Designworks; he was with BMW in Munich 1996-2008; Goplen works as a Creative Director at Designworks, Newbury Park, California
Goplen designed the BMW E46 3 series, contributed to the design of the Z4 (2002-2004) and designed the second generation of the BMW F25 X3 (2011), the car which reminds at the rear X5; it's also the first BMW where the characteristic for the new models "zicke line" does not go straight, but drops down dramatically although we have some doubts about the design of the front and the headlights line we really like this car
Goplen says; I usually start by hand, small point, and then from that aspect, scan it in, get it into Photoshop, do some computer modeling around it loosely myself, but usually give it on to the modelers. Then, as soon as possible, get it into a clay model. A scale model I really enjoy (quoted after Gotryke)
Goplen is an avid classic car collector – he owns 1969 De Tomaso Mangusta
C
Goplen himself (picture: Bimmer Today)
---
14. Karl John Elmitt
Head of Exterior Design for BMW M division (M GmbH)
Karl John Elmitt designed the E92 M3 car (coupe version) working with Hans-Bruno Starke; Elmitt holds several US patents for surface configuration of a car or its parts registered by BMW with his name
Elmitt said about the M3 he designed: We couldn't build cars as brutal as the old M3s today.
---
15. Michael de Bono
Exterior designer of the new Active Tourer Concept BMW family car
Young British designer Michael de Bono bears the name of the famous contemporary physician, author and thinker from Malta (singer U2 Bono is not a real name), Michael de Bono studied at Transportation Design Dept. of Coventry University (diploma 2003), as his diploma work he designed the Rolls-Royce 2-seat cabrio where the traditional Rolls front grille when the car is driven tilts backwards to an angle position to reduce drag and the car's seats fold up to close the cockpit when the car is parked; after the studies de Bono went to work for Rolls Royce and BMW design studio
De Bono is presently based in Munich, where he works under Karim Habib
Sketches by De Bono for the BMW Active Tourer Concept- no, it is not just higher Honda Civic, it's a Bimmer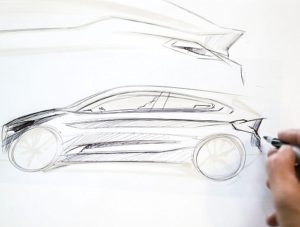 ---
16. Thomas Peter Sycha (*1963)
Munich based designer of Polish origin, studied Architecture at Silesian University of Technology, Gliwice, Poland (Master 1985, the same studies which Jacek Fröhlich completed a year earlier); since 1994 with BMW in Munich
Sycha designed E86 Z4 Coupe, his designs were patented by BMW
---
17. Christoph Nordmann
German automotive designer at BMW in Munich; worked on the BMW 3 series E91 M3 touring
---
18. Pascal Tanghe (*1964)
Belgian designer, designed Cité Presto – 'A car for Paris' (2000) and a prototype of a sports car for Volvo called Vinera, later with BMW in Munich where he works today, Tanghe has been responsible for the exterior look of the prototype of BMW E83 X3 (2003)
---
Intuitive Design – BMW i brand, from 2010: ideology dominates design, in search of the unknown
---
1. Benoit Jacob (*1970)
French designer who started his career at Renault where he went directly after school and was hired for one year on the basis of his portfolio; he later studied at the prestigious Art Center College of Design in Vevey, Switzerland, he designed for Renault Dacia Logan and a small roadster concept car called Spider, with some cars produced without a windscreen; from 2004 Jacob works at BMW in Munich as the design team leader on prototypes for the new 8 series called GT2 and GT4, on BMW CS Coupe Concept shown in Shanghai in 2007, Jacob also designed the homage to the BMW M1 – a new M1 concept sports coupe (2008)
In August of 2010, Benoit Jacob became the head of the new design team for the BMW green sub-brand called BMW i: 'it may be time for a bit of a [car] rebirth' he said for the NY Times; he is called by German press the i-nnovator
Renault Spider roadster by Benoit Jacob – his personal car without a windscreen
BMW MCV carbon habitat during the safety tests; please note that the form of this car differs from the drawing and the car looks similar to Smart – it is short, high and compact
Benoit Jacob with i8 Spyder
---
2. Mario Majdandzič ( *1979)
German designer of Croat descent, educated at III Gymnase at Osijek (Croatia, Class of 1994) and at Pforzheim University of Applied Sciences in Design, Technology and Business (Master from Transportation Design, 2003, title of the diploma work: "Oxygen"); after the studies Majdandzič worked for two years at Volkswagen; since April 2006 with BMW
Majdandzič designed the exterior of the new BMW Vision EfficientDynamics concept
Mario Majdandzič and his sketches for the BMW Vision EfficientDynamics concept, 2007
---
3. Jochen Paesen (*1976)
Born in Opglabeek in Belgium, Paesen spent his youth living in different countries, he moved with his parents across Europe and to South Africa; Paesen was educated in England at Transportation Design Dept. of Coventry University and at Royal College of Art in London (Master 2001); he became known for his exceptional drawing skills – his automotive images are recognized as art and sold as limited edition prints; during his studies in London, he designed for the contest of Helen Hamlyn Research Centre a taxi of the future called SW7; it was meant to ride safely almost like a golf car through London pedestrian streets with a driver and two passengers
Directly after the studies, Paesen started his designer career at Volkswagen (2001) where he designed the interior of VW Amarok, before moving to BMW in 2006, he worked on the interior of the new BMW 6 series (together with German designer Christian Bauer, at present he works as a car interior designer at Vision EfficientDynamics; he designed the interior of the new BMW Vision EfficientDynamics concept car using innovative layering technology
Paesen pursues also the career of the automotive artist painting and drawing historic cars and races
An SW7 taxi concept by Paesen
A drawing by Jochen Paesen for the interior of the BMW Vision EfficientDynamics concept car; for Peasen's automotive prints see: www.jochenpaesen.com
---
4. Anne Forschner (*1985)
German designer born in Ostfildern near Stuttgart (Baden -Württemberg), educated at Pforzheim University of Applied Sciences in Design, Technology and Business (Master in 2009), an intern at Mercedes and Mazda USA, an intern at BMW (2008, 2009), since 2009 with BMW in Munich, Forschner designed the BMW Lovos (the Lifestyle of Voluntary Simplicity) – a wacky concept where car energy is collected from sun by many moveable sun cells on fish-like scales, which as we might think will also use energy for their movements; the Lovos concept while amateurish and contradicting its own philosophy, amazes with its courage and novelty
Moveable scales on a Lovos car model
Drawings by Anne Forschner
Charming Designer Anne Forschner (photo from the Pforzheim University website)
---
5. Anders Warming (*1972)
Danish automotive designer educated at Art Centre College of Design Europe, Vevey, Switzerland and in Pasadena, CA; Warming worked after the studies at Designworks in CA, between 2003 – 2005 he worked for Volkswagen, in 2005 Wanders returned to BMW and moved to Munich to become the Team Leader, until December of 2009 head of the BMW Exterior Design in Munich and again in October 2010 until mid-December 2010, when he became the head of the Mini design studio also in Munich
Warming designed so called X-Coupe prototype, worked on Z3, he designed the first E85 Z4 (2002) about which he said: We wanted to make a clear statement. We didn't want to design the Z3, Mark II.
Wanders also designed GINA Light Concept, Mille Miglia 2006 Coupe Concept and previously worked on the X1 concept
Anders Warming is at the moment the Head of the Design at Mini (from Mid-December 2010) replacing Gert Volker Hildebrand
Anders Warming (picture from www.carbodydesign.com)
Mille Miglia 2006 Coupe concept
---
6. Marcus Syring (*1967?)
German designer penned BMW Z3 Coupe and M Roadster; at Mini he was a lead designer for Mini Paceman, he recently designed the concept car Mini Coupé; Syring's designs were patented by BMW at present Marcus Syring is the Head of Exterior Design at BMW Mini.
---
7. Giles Taylor (*1967)
Giles Taylor grew up in Coventry and studied at Coventry University MA Automotive Design (1986-1990) and Royal College of Art in London (1990-1992); after the studies he worked as an exterior designer at PSA Peugeot (1992-1997), has been Head of Exterior Design and the Chief of Design at Jaguar, now owned by Tata of India
Rolls Royce led by the departing Head of Design Ian Cameron, has been an example of astonishing turnaround in any sense – these are truly the dream cars, which also sold very well – the same can be hardly said about the Jaguars of the past decade; the press underlined the fact that by naming Taylor, Rolls Royce is maintaining the British-ness of the brand
Ian Cameron said about Taylor: Giles has a deep knowledge of emotive brands in the luxury segment and a proven track record ; Giles Taylor who is credited with the design of the new Jaguar XJ sedan, said in one of his interviews: There should be an effortless visual purity with any new Jaguar design, born from an understanding of the functional and technical aspects of the vehicle, whether sports or saloon.
Giles Cameron will become the new Rolls Royce Head of Design from April 1, 2011 replacing Ian Cameron
Decorative drawings by Giles Taylor and Giles Taylor himself
---
8. Marc Michael Markefka
German designer with BMW in Munich, co-designed E92/E93 3-series coupe & cabrio E82/E88, designed 1-series coupe & cabrio; his designs done jointly with Peter Gabath for front and rear bumpers were patented by BMW at present Marc Michael Markefka works as a project leader at Rolls Royce
---
9. Andreas Thurner (*1976)
German designer educated at Friedrich-Schelling Grund und Hauptschule mit Werkrealschule Besigheim (1981-1985), Realschule, Besigheim (1985-1991), Robert-Franck-Schule, Ludwigsburg (1991-1994), Pforzheim University of Applied Sciences in Design, Technology and Business (2001-Master in 2004)
Thurner works for Rolls Royce; he designed the new Baby Rolls 200EX – a smaller Rolls Royce car based upon changed 7-series platform, called Rolls Royce Ghost (2010); his much repeated quote about this car is that "… it looks natural not styled".
---
An addition: designers leading BMW DesignWorks studios
---
1. Aurenz Schaffer (*1967)
German designer who came to BMW in 1998 from Frog Design; Schaffer studied at Ludwig Maximilian University and Fachhochschule in Munich (FHM), degree from Industrial Design, (1987-1992), after the studies he worked as a free lance designer at Frog Design Gmbh; Schaffer worked later at their San Francisco studio, he led the BMW Designworks Munich studio (2000-2009) and was for some time in charge of the BMW Lifestyle collection (2003-2006)
On December 1, 2009 Laurenz Schaffer became the President of Designworks at California Designworks Studio, taking over from Verena C. Kloos who left for the Munich BMW Design studio
Laurenz Schaffer photographed by Martin Kreuzer (www.martin-kreuzer.com)
---
2. Niko von Saurma-Jeltsch (*1971)
German designer from a Silesian aristocratic family (full name – Nikolaus Graf von Saurma-Jeltsch) with an established name in the German automotive world, educated at Technische Universität Berlin (Master 1993), Art Center in Switzerland, graduated with honors – Art Center College of Design in Pasadena, CA (BS 1995).
Since August 1995 with Designworks USA in Newbury Park, since 1997 at newly created Munich Studio of BMW Designworks; he established and led the BMW Designworks Singapore studio (2006-2008).
Niko Saurma became on Dec.1, 2009 the Director of the Munich Studio, Designworks, USA
---
3. Magnus Aspegren (*1969)
Swedish born designer, as a son of IBM executive Aspegren spent his youth in several countries in Europe and the US; educated as an architect, Aspegren worked as a Concept Designer for NBBJ Architects; later as a Manager of Product Development for AaBe Textiles in the Netherlands.
Later as a Project Manager at Teagu he worked on commercial aircraft visual brand identities for over 20 airlines worldwide including Air France, Scandinavian Airlines, Southwest Airlines, Asiana and Ansett Worldwide among others, as well as business jet interiors; since 2005 Aspegren was Creative Director at the BMW Designworks in Los Angeles, he created interior jet designs for Boeing and Embraer (Legacy 500 in 2007); 2009 – 2012 Director of the Singapore Studio Designworks; the studio moved in Spring of 2012 to Shanghai, China: now Magnussen leads the Shanghai Studio of Designowrks.